Ad blocker interference detected!
Wikia is a free-to-use site that makes money from advertising. We have a modified experience for viewers using ad blockers

Wikia is not accessible if you've made further modifications. Remove the custom ad blocker rule(s) and the page will load as expected.
Progress 0%

Stats
Nouns
0%
Verbs
0%
Adjectives
0%
Syntax
0%
Words
of 1500
High celestial elven
aauuiiuaae
Type
polysnythetic fusional
Alignment
quadratic
Head direction
right branching
Tonal

Yes

Declensions

Yes

Conjugations

Yes

Genders
yes
Nouns decline according to...
Case
Number
Definiteness
Gender
Verbs conjugate according to...
Voice
Mood
Person
Number
Tense
Aspect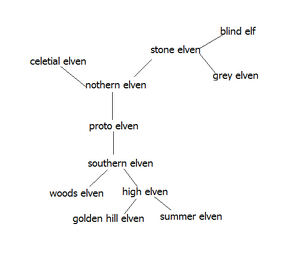 General information
Edit
It is an extinct used currently for wizard incantations and has the same status in my conworld oldworld old world as ancient greek or latin has in the real world. It is a language of prestige spoken by the educated and upper class it is extremely complex and has no consonants, only vowels. 
It forms its own seprate elven language, as opposed to the others for it has no consonants
Phonology
Edit
voiced Front

voiced Near-front

voiced Back
Close

i/y

 ɯ  u

Near-close

ɪ

Open-mid

ɛ/

œ

Open
a/

ɶ
| | |
| --- | --- |
| əʊ̯ | ow |
| aʊ̯ | ou |
| aɪ̯ | ai |
| eɪ̯ | ei |
| ɔɪ̯ | oi |
| ʊu̯ | ao |
| ɪi̯ | ea |
| ɪə̯ | ia |
| ɛə̯ | æ |
| ʊə̯ | ue |
| oʊ | oh |
 The celetial elven script is the main script used through out my conworld apart mirkuleon pictograms which are restricted to only mirkuleon and saratao, and yaladic. Elven script is split into two branches wood elven which was written on leaves and so is curvy vs dwarven which is carved in rocks and so is angular and rigid.
romanisation
IPA
I i 
i
Y y
y
Ì ì

i̐

Ý ý

ẙ

U u
u
Ü ü

ɯ

Ŭ ŭ
u voiceless
Ư ư

ɯ voiceless

I ı

ɪ

E e

ɛ

Ø ø

œ

Ĕ

 ĕ

ɛ voiceless

Ǿ 

ǿ

œ voiceless

A a
a
Œ œ

ɶ

Ą ą
 a voiceless
Œ́ œ́

ɶ voiceless
Phonotactics
Edit
 the phonotatics are fairly simple for their are only vowels and thus no consonant clusters, tw
| | Gender | Cases | Numbers | Tenses | Persons | Moods | Voices | Aspects |
| --- | --- | --- | --- | --- | --- | --- | --- | --- |
| Verb | No | No | No | No | No | No | No | No |
| Nouns | No | No | No | No | No | No | No | No |
| Adjectives | No | No | No | No | No | No | No | No |
| Numbers | No | No | No | No | No | No | No | No |
| Participles | No | No | No | No | No | No | No | No |
| Adverb | No | No | No | No | No | No | No | No |
| Pronouns | No | No | No | No | No | No | No | No |
| Adpositions | No | No | No | No | No | No | No | No |
| Article | No | No | No | No | No | No | No | No |
| Particle | No | No | No | No | No | No | No | No |
Ergative
accusative
abslotive
benefecitve
gentive
essive
locative
ablative
instrumental
Elf
-ow
-oo
Human
-ou
-aa
mirkuleon
-ai
-ii
dwarf
-ei
-yy
sea animals, 

Nautical, fishing

-oi
sky animals, archery, slingshots, aircraft

-ao

land animals,Farming 

-ea

goverment and political, war, trube

-ia

Family

-æ

Abstract or unknown

-ue

crime or illegal
-oh
Vocabulary
Edit
Example text
Edit