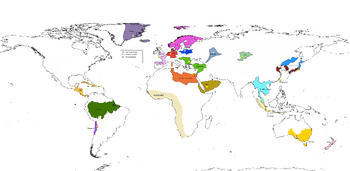 [This project is currently inactive/defunct. If you would like to revitalize it, you are welcome to do so. Please just notify Eçeþesi.]
This world is a parallel earth. The geography and biology are the same, but the culture and history are different. Instead of the Earthly languages we're all familiar with, on this world our conlangs flourish as the languages of the people.
Nations and Their Languages
Edit
The following names are all native names. 
(Note: if the native script is not Latin, Cyrillic or Greek, or a combination thereof, the Latin transliteration will be provided.)
Ad blocker interference detected!
Wikia is a free-to-use site that makes money from advertising. We have a modified experience for viewers using ad blockers

Wikia is not accessible if you've made further modifications. Remove the custom ad blocker rule(s) and the page will load as expected.