Ad blocker interference detected!
Wikia is a free-to-use site that makes money from advertising. We have a modified experience for viewers using ad blockers

Wikia is not accessible if you've made further modifications. Remove the custom ad blocker rule(s) and the page will load as expected.
Jetvegian

Type
Fusional
Alignment
Nominative-Accusative
Head direction
Initial
Tonal

No

Declensions

Yes

Conjugations

Yes

Genders
Three
Nouns decline according to...
Case
Number
Definiteness
Gender
Verbs conjugate according to...
Voice
Mood
Person
Number
Tense
Aspect
Meta-information
Progress
0%

Statistics
Nouns
0%
Verbs
0%
Adjectives
0%
Syntax
0%
Words
0 of 1500

Creator
Nikonor
General information
Edit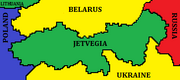 Jetvegian language (self-name. Jетв҄ежа валода IPA:/jetvʲe'a valo'da/), also known as Polesian language is an alterhistorical semi-isolated East-Slavic language. It is the state language of Republic of Jetvegia. Derived from Old East Slavic Language under massive lexical and phonetic influence of West Baltic language - Sudovian language, and artificial injection of Church Slavonic Orthography during the national-religious campaign in the beginning of the XVII century.
Specific features
Edit
Linguistic features
Edit
Classification and dialects
Edit
Phonology
Edit
Consonants
Edit
Bilabial
Labio-dental
Alveolar
Retroflex
Palatal
Velar
Plain
Palatal
Plain
Palatal
Plain
Palatal
Plain
Palatal
Nasal
m
mʲ
n
nʲ
Stop
p

b

pʲ

bʲ

t

d

k
kʲ
Sib. affricate
ts
tsʲ

dzʲ

ʈʂ
Sib. fricative
s

z

sʲ

zʲ

ʂ

ʐ

Non-sib. fricative
f

v

fʲ

vʲ

x

ɣ

xʲ

ɣʲ

Approximant
j
Trill
r
Lat. approx.
l
lʲ
Writing system
Edit
Letter
Romanization (Jetvegian Latin Alphabet)
Pronunciation
Name

/name transription/

Traditional name name meaning

/name transription/

Archaic form
Aa
Aa
a, h'aː
Аа

/а/

Азо I (neutral gender)

/'аzo/

Аа
Бб
Bb
b, bʲ, p
Бɘ

/bе/

Бука letter (of alphabet)

/b'uka/

Бб
Вв
Vv, Ww (after vovewls before consonants or at the end of word)
v, vʲ, w (after vovewls before consonants or at the end of word)
Вɘ

/ve/

Вѣдацi to know

/vʲ'ieːdat͡sʲi/

Вв
Гг
Ǧǧ

GH, Gh, gh*

ɣ, ɣʲ, x
Гɘ

/ɣe/

Глаголiцi to speak

/ɣlag'olit͡sʲi/

Гг
Ґґ
Gg
g, gʲ
Ґɘ

/ge/

—
—
Дд
Dd
d, t
Дɘ

/de/

Добро goodness

/dobr'o/

Дд
Ƶƶ
Ƶƶ

DZ, Dz, dz*

dzʲ
Ƶɘ

/de/

Ƶѣло very

/z'ieːlo/

Ѕѕ→Ꙅꙅ→Ꙃꙃ
Ее
e (after consonants), JE, Je, je
e (after consonants), je
E

/je/

Есцi to exist

/j'est͡sʲi/

Ее, Єє, Ѥѥ
Жж
Žž

ZH, Zh, zh*

ʐ
Жɘ

/ʒe/

Жывота life

/ʒɨv'ota/

Жж
Зз
Zz
z, zʲ
Зɘ

/ze/

Земля earth, land

/zʲemlʲa/

Ꙁꙁ→Зз
Ii
Ii
i
I

/i/

I ꙃесѩтичное I decimal

/i d͡zʲesʲ'ɛ̃tɨʈ͡ʂnoe/

Ii, Ии
Ии
Ɨɨ

Yy*

ɨ
И

/ɨ/

Ери —

/'erɨ/

Ii, Ии, Ыы