Ad blocker interference detected!
Wikia is a free-to-use site that makes money from advertising. We have a modified experience for viewers using ad blockers

Wikia is not accessible if you've made further modifications. Remove the custom ad blocker rule(s) and the page will load as expected.
Progress 0%

Stats
Nouns
0%
Verbs
0%
Adjectives
0%
Syntax
0%
Words
of 1500
Kohdese
Gwòhn xở Ḷwáng
Type
Isolating
Alignment
Head direction
Tonal

Yes

Declensions

No

Conjugations

No

Genders
0
Nouns decline according to...
Case
Number
Definiteness
Gender
Verbs conjugate according to...
Voice
Mood
Person
Number
Tense
Aspect
General information
Edit
Native name Gwòhn xở Ḷwáng /kɰ̈on˥ʰ˨ c͡ɕ'ɘː˧˩˧ ˀlˠɑ̌ɴ˨˥/
Phonology
Edit
Consonants
Edit
 Bilabial  
 Alveolar 
Retroflex
 Palatal  
Velar
Glottal
Nasal
Plain
m~b〈m〉
n~d〈n〉
(ŋ)
Glottalic
ˀm~ɓ〈ṃ〉
ˀn~ɗ〈ṇ〉
Plosive
Plain
p〈b〉
t〈d〉
k〈g〉
Ejective
p'〈p〉
t'〈t〉
k'〈k〉
(ʔ)
Fricative
Plain
ɸ〈f〉
s~ɕ〈s〉
ʂ〈sh〉
(h)
Glottalic
ˀs~ˀɕ〈z〉
ˀʂ〈zh〉
Affricate
Plain
t͡s~t͡ɕ〈tz〉
ʈ͡ʂ〈j〉
c͡ɕ〈c,cz〉
Ejective
t͡s'~t͡ɕ'〈ts〉
ʈ͡ʂ'〈ch〉
c͡ɕ'〈x〉
Liquid
Plain
l〈l〉
ɽ~ɖ〈r〉
(j)
(ɰ)
Glottalic
ˀl〈ḷ〉
/j/ and /ɰ/ are parts of the syllable nucleus and are attached to specific finals.
/ŋ/ is only found in the syllable coda.
/ʔ/ and /h/ are found in certain tone contours only.
The alveolo-palatal series /c͡ɕ/ and /c͡ɕ'/ are often [c͡ç] and [c͡ç'], and contrast with [t͡ɕ] and [t͡ɕ'] before high front vowels.
Front
Central
Back
Unrounded
Rounded
Unrounded
Rounded
High
i
ø
ɯ
u
Mid
e
a~ə
ɤ
o
Low
/e/ and /ø/ are often analyzed as a single phoneme.
Each phoneme has several different allophones in different situations.
With several exceptions, the sounds /i/, [ɨ], /e/, [ø], /a/, [ə], /ɤ/, /o/, /ɯ/, and /u/ are generally transcribed i, y, e, ê, a, ă, ơ, o, ư, and u respectively in romanization.
Syllable Rime
Edit
Kohdese possesses an eight-tone system, each with additional features as well.
| Tone Name | Description | Tone Contour | Diacritic | Example |
| --- | --- | --- | --- | --- |
| téi "above" | low rising | ˨˥ | ´ | |
| tzưào "simple" | mid falling | ˧˨ | ` | |
| kảo "strange" | mid falling-rising, breathy | ˧˩˧ |  ̉ | |
| xẹ'i "broken" | mid level, glottalized | ˧ˀ˧ |  ̣' | |
| dòḫ "dropped" | high falling, glottalized | ˥ˀ˨ | `' | |
| ṃwớn'g "thrown" | low rising, glottalized | ˨ˀ˦ | ´' | |
| lựhen "within" | mid level, mid-devoiced | ˧ʰ˧ |  ̣h | |
| zèhng "light" | high falling, mid-devoiced | ˥ʰ˨ | `h | |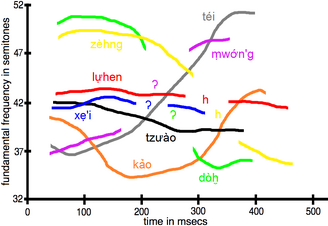 Writing Systems
Edit
Phonotactics
Edit
| | Gender | Cases | Numbers | Tenses | Persons | Moods | Voices | Aspects |
| --- | --- | --- | --- | --- | --- | --- | --- | --- |
| Verb | No | No | No | No | No | No | No | No |
| Nouns | No | No | No | No | No | No | No | No |
| Adjectives | No | No | No | No | No | No | No | No |
| Numbers | No | No | No | No | No | No | No | No |
| Participles | No | No | No | No | No | No | No | No |
| Adverb | No | No | No | No | No | No | No | No |
| Pronouns | No | No | No | No | No | No | No | No |
| Adpositions | No | No | No | No | No | No | No | No |
| Article | No | No | No | No | No | No | No | No |
| Particle | No | No | No | No | No | No | No | No |
Vocabulary
Edit
Example text
Edit