Ad blocker interference detected!
Wikia is a free-to-use site that makes money from advertising. We have a modified experience for viewers using ad blockers

Wikia is not accessible if you've made further modifications. Remove the custom ad blocker rule(s) and the page will load as expected.
Progress 0%

Stats
Nouns
0%
Verbs
0%
Adjectives
0%
Syntax
0%
Words
of 1500
Name: Krasnamyazüik

Type: Agglutinative

Alignment: Nominative-Accusative

Head Direction:

Number of genders: 4

Declensions: Yes

Conjugations: Yes
Nouns declined
according to
Case
Number
Definitiveness
Gender
Verbs conjugated
according to
Voice
Mood
Person
Number
Tense
Aspect
General information
Edit
Krasnamyazüik is a language spoken by the inhabitants of the country located near the north pole. The "Leninavyelghitem' which means 'Equality rules'. Consequently, this country is known to have a pure Communist government and 'Lenin' in this language means 'equality'! Linguists are yet to disfigure how this so-called coincidence came to being. The people are easily able to survive in temperatures often touching -50 degree Celsius. 
The language has heavy derivations from Russian, Hindi and Malayalam languages. It has 51 alphabets. There is a unique writting system which is completly phonetical. For transliteration, an English-based alphabets are used. Though being spoken in the far north, it has a 'palatal click' consonant which is normally used in African languages. It has2 ejectives. 
It has a grammar similar to Russian but simpler. Noun cases affect only the noun and the verbs and adjectives remain intouched. The adjectives never decline. All verbs end in a retroflex nasal consonant, unless it is conjucated by a noun or pronoun preceeding or succeding it. It has a different logic for pronouns like the imperferctive and perfective "we", the inclusive and exclusive "we". 
All I've got to say is that it is a fascinating languages with the  words sounding like vibrations from the stars! Please do provide feedback while I try to present the Krasnamyazüik here, in front of you all! 
Phonology
Edit
Consonants:
Edit
The following table contains the Krasnamyazüik consonats with the voiced and unvoiced counterparts on the left and right side respectively. 
Bilabial
Labio-dental
Dental
Alveolar
Palato-alveolar
Retroflex
Palatal
Velar
Uvular
Nasal
m

n̪

ɳ

ɲ

Plosive
p/b

d̪

/

t̪

ɖ

/

ʈ

g/k
Fricative

ɸ

f
z/

s

ʒ

/ʃ

ʁ

/

χ

Affricate

d͡z

/

t͡s

d͡ʒ

/

t͡ɕ

Approximant

ʋ

ɹ

j

Trill

r

R
Flap

ɾ

Lateral

ɭ

Ejective stop

t̪'

ʈ'

Click

ǂ
The following are the Krasnamyazüik alphabet representatives of each of the above sounds:
P - Voiceless bilabial stop (p)
B - Voiced bilabial stop (b)
F - Voiceless labio-denatal fricative (f)
V - Voiceless bilabial fricative (ɸ)
W - Voiceless labio-dental approximant (ʋ)
M - Bilabial nasal (m)
D - Voiced dental plosive (d̪)
T - Voiceless dental plosive (t̪)
Z - Voiced dental siblant fricative (z)
S - Voiceless dental siblant fricative (s)
N - Dental nasal (n̪)
T" - Dental ejective (t̪')
Y - Palatal approximant (j)
Ź - Voiced palato-alveolar siblant fricative (ʒ)
Ś - Voiceless palato-alveolar siblant fricative (ʃ)
Rr - Alveolar trill (r)
R - Alveolar flap (ɾ)
Ŕ - Alveolar approximant (ɹ)
Ď - Voiced retroflex stop (ɖ)
Ť - Voiceless retroflex stop (ʈ)
Ń - Retroflex nasal (ɳ)
X" - Retroflex ejective (ʈ')
J - Voiced palato-alveolar affricate (d͡ʒ)
Ĉ - Voiceless alveo-palatal affricate (t͡ɕ)
Dz - Voiced alveolar siblant affricate (d͡z)
Ts - Voiceless alveolar siblant affricate (t͡s)
G - Voiced velar stop (g)
K - Voiceless velar stop (k)
Ñ - Velar nasal (ɲ)
Ĝ - Voiced uvular fricative (ʁ)
Ķ - Voiceless uvular fricative (χ)
Ř - Uvular trill (R)
| | Front | Near-front | Central | Near-back | Back |
| --- | --- | --- | --- | --- | --- |
| Close | i | | ɨ | | u |
| Near-close | | | | | |
| Close-mid | e | | | | o |
| Mid | | | ə | | |
| Open-mid | | | | | |
| Near-open | æ | | | | |
| Open | | | | | ɑ |
The picture at the end shows the authentic Krasnamyazüik alphabets.
Here are their respective transliterations with the capital and small letters on the left and right side respectively: (These alphabets are arranged roughly according to their place of articulation)
VOWELS
Y

é y

é

Yo yo
Ya ya
Y

ö y

ö 

Oo
Y

é y

é

Yo yo

Ya ya

Y

ö y

ö

Yy
§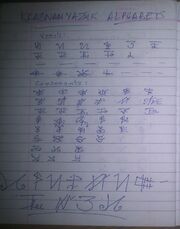 Phonotactics
Edit
| | Gender | Cases | Numbers | Tenses | Persons | Moods | Voices | Aspects |
| --- | --- | --- | --- | --- | --- | --- | --- | --- |
| Verb | No | No | No | Yes | Yes | Yes | Yes | Yes |
| Nouns | No | Yes | Yes | Yes | Yes | Yes | Yes | Yes |
| Adjectives | Yes | No | No | No | No | No | No | Yes |
| Numbers | No | Yes | Yes | Yes | No | No | No | Yes |
| Participles | No | No | No | No | No | No | No | Yes |
| Adverb | No | No | No | No | No | No | No | Yes |
| Pronouns | Yes | Yes | No | No | Yes | Yes | No | Yes |
| Adpositions | No | No | No | No | No | No | No | Yes |
| Article | No | No | No | No | No | No | No | No |
| Particle | No | No | No | No | No | No | No | Yes |
Vocabulary
Edit
Example text
Edit