An Midbeag is þe Fogweȝ þer Oferblikke anes ƕerfenden Þoðers mid þer Efene þe is rihtwinkliȝ to þer Þoðers Ƕerfungæxe and middward betwix þen Palen þes Þoðers. Þe Midbeag wissþ gewune to þem Midbeag þer Erðe: ane ingebilþte Leine on þem Oferblick þer Erðe, þe efenferr of þem norðen Paal and suðen Paal is, and dælþ þie Erðe in þen norðernen Saamþoðer and suðernen Saamþoðer. Þe Midbeag is um 24,901 Mi (40,075 km) lang; ætƕare 78.7% lijþ ofer Water and 21.3% ofer Folden. Oðere Planeten and tungolkræftlice Bodige habeþ Midbeage geleike amarkt.

Script error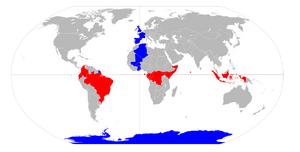 Ad blocker interference detected!
Wikia is a free-to-use site that makes money from advertising. We have a modified experience for viewers using ad blockers

Wikia is not accessible if you've made further modifications. Remove the custom ad blocker rule(s) and the page will load as expected.