Ad blocker interference detected!
Wikia is a free-to-use site that makes money from advertising. We have a modified experience for viewers using ad blockers

Wikia is not accessible if you've made further modifications. Remove the custom ad blocker rule(s) and the page will load as expected.
Progress 0%

Stats
Nouns
0%
Verbs
0%
Adjectives
0%
Syntax
0%
Words
of 1500
Orkan Language
Orkoto
Type
Agglutinant
Alignment
Nominative–accusative
Head direction
Tonal

No

Declensions

No

Conjugations

No

Genders
Nouns decline according to...
Case
Number
Definiteness
Gender
Verbs conjugate according to...
Voice
Mood
Person
Number
Tense
Aspect
General information
Edit
Orkoto is an artlang that evolved from an older artlang of mine. The Orkoto language (Orkan for "evil" <ork> plus "speak" <ot>) was a laguage I invented not to be easy to pronounce, nor to read, nor to hear good. (If it is so, it was not intentional.) I just wanted to make an agglutinat conlang (for ease of vocabulary) and wanted it to be VCVC rather than the common CVCV. I wanted its grammar and phonology regular.
Its called "evil language" against Toki Pona. Orkot is contrary to Toki Pona.
I may use it as a fictional language in a future project, maybe in a video game.
Phonology
Edit
Orkan phonology is somehow structured and regular. The sounds are based on -in alphabetic order- English, Finnish and some of my favorites words. The phonology wasn't intented to sound good but evolved in something that is pleassure to me.
Consonants
Edit
Bilabial
Labio-dental
Alveolar
Velar
Nasal
m
n
ñ /ŋ/
Plosive
p b
t d
k g
Fricative
f v
s z
h q /x ɣ/
Affricate
(pf bv)
(ts dz)
(kx gɣ)
Approximant
w
r
j
Lateral app.
l
| | Front | Back |
| --- | --- | --- |
| Close | i | u |
| Mid | e <e̞> | o <o̞> |
| Open | ä <æ> | a <ɑ> |
Orkot is written in three alphabets: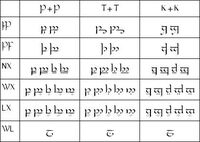 Latin alphabet: "a b d e f g h i j k l m n ñ o p r s t u v w z"
Orkan-Tengwar alphabet
Orkan alphabet
Phonotactics
Edit
Syllable structure is V(C(C)), where V is a vowel and C is a consonant.
Syllables of the form V are grammatical, leaving only roots of the form VC(C).
Consonant clusters:Edit
Consonant cluster can be two consonants of the same articulation or an alveolar consonant and another one.
The next tables shows all consonat clusters.
F a fricative
P a plosive
N a nasal
W an approximant
L the latteral approximant
X any consonant
| | Labial + Labial | Alveolar + Alveolar | Velar + Velar |
| --- | --- | --- | --- |
| FP | fp vb | st zd | hk qg |
| PF | pf bv | ts dz | kh gq |
| NX | mp mb mf mv | nt nd ns nz | ñk ñg ñh ñq |
| WX | wp wb wf wv wm | rt rd rs rz rn | jk jg jh jq jñ |
| LX | lp lb lf lv lm | lt ld ls lz ln | lk lg lh lq lñ |
| WL | wl | rl | jl |
| | Labial + Alveolar | Alveola + Labial | Alveolar + Velar | Velar + Alveolar |
| --- | --- | --- | --- | --- |
| FP | sp zb | ft vd | ht qd | sk zg |
| PF | ps bz | tf dv | th dq | ks gz |
| WX | rp rb rf rv rm | wt wd ws wz wn | jt jd js jz jn | rk rg rh rq rñ |
Orkoto basic strucuter is OVS. There are 5 ways a word can take significanse:
| Function | Affix |
| --- | --- |
| modifier (adjetive/adverb) | -u |
| subject | -o |
| object | -e |
| verb | -a |
| grammatical use | -i |
Every word must have one of the five affixes, or must be used as an suffix for other word.
Complete sentence structure:
Mod-u Obj-e Mod-u Vrb-a Mod-u Sbj-o (Grm-i)
Example:
.idu owdalfe utu añka imu owdalfo.
My dog bytes a lot your dog.
Vocabulary
Edit
Example text
Edit