Tixistani
Yelað Tikkŕistar
Type
Fusional
Alignment
Ergative
Head direction
right branching
Tonal

No

Declensions

Yes

Conjugations

Yes

Genders
No
Nouns decline according to...
Case
Number
Definiteness
Gender
Verbs conjugate according to...
Voice
Mood
Person
Number
Tense
Aspect
General Information
Edit
Tixistani (natively Yelað Tikkŕistar /jelʌ́θ tikːrístʌɹ/) is the native language of the alien Cittus, specifically the Tixist people (Tikkŕista) in Tixistan, a large country on Cittus-V ('Es).
Phonology
Edit
Consonants
Edit
dental
alveolar
dorsal
glottal
stop
tenuis
t(ː)
k(ː)
ʔ
fricative
voiceless
θ(ː)
s(ː)
ʟ̝̊(ː)
h(ː)
voiced
z
ɣ ʟ̝(ː)
approximant
ɹ(ː) ɫ(ː)
j
trill
r
Syllable-final /h/ and geminate /hː/ are allophonically realized as voiceless bidental fricatives [h̪͆].
| | front | back |
| --- | --- | --- |
| high | i | ɯ |
| low | ɛ | ʌ |
Diphthongs: /ɯi̯/, /ɛi̯/, /ɛʌ̯/, and /ʌi̯/
Phonotactics
Edit
CV(C)(C)
The V can be a monophthong or a diphthong.
Geminate consonants count as two consonants, can occur before before another (non-geminate) consonant, and cannot occur on a word boundary.
Clusters of more than three consonants are not allowed.
Vowel hiatuses are broken up by glottal stops.
Stress is not phonemic. It is on the first syllable if the word ends in a vowel, or on the second if the word ends in a consonant, ex. gehhu /ɣéhːu/ vs 'eruz /ʔeɹúz/. Words ending in a diphthong can be stressed on either. Long words of over three or four syllables like Yektaððtaysuz "special district" will tend to break this pattern and be stressed on the third or fourth syllable, though this is not considered proper. Stressed syllables do not inherently differ in pitch from unstressed syllables; the primary difference is in length and volume.
Isochrony
Edit
Isochrony is how a language breaks up speech into equally-timed intervals. Tixistani is a stress-timed language, meaning that the intervals between stressed syllables are equal.
Intonation
Edit
Emphasis on a word is expressed through a falling pitch on its final vowel. Questions are indicated using a more complicated intonation pattern: peaking pitch on the first syllable of the question and a high tone on the final syllable of the question.
Writing System
Edit
Native Script
Edit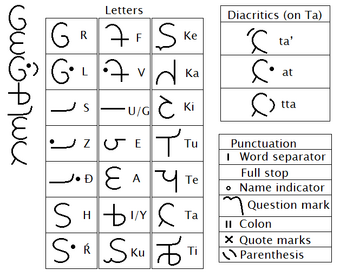 Tixistani is written in a semi-syllabary called 'Urshef or Rallisata. It has many interesting features:
The letters for high vowels pull double-duty as consonants (U with G and I with Y). When two are next to each other, it must be inferred from context which are consonants.
Stop consonants are written as syllable blocks with each vowel. 
If a stop is not adjacent to any vowel, then the syllable block chosen would be one with a vowel from an adjacent side, and no variation mark (so Sulksay is written as ⟨s.u.rv.ku.s.a.i⟩ or ⟨s.u.rv.ka.s.a.i⟩).
Letter names are not arbitrary. ex. F is feskuŕ "skin", R ralli "cloud", and S sat "eye"
The script is written in downward columns which move from the left to the right.
Diacritics
Edit
The glottal stop is written as an accent mark on the preceding letter. It is not written at the beginning of a word in the native script.
L, Ð, and Ŕ are written as R, S, and H plus a variation mark.
Z and V are written as S and F with a voice mark.
The variation mark reverses a stop-vowel syllable block. So the common name Hakre is effectively written as ⟨h.kav.r.e⟩, sat as ⟨s.tav⟩.
Geminate consonants are not written doubly, but with the lengthener accent mark.
Punctuation
Edit
Words are separated by a small vertical line. Other punctuation marks take the place of the word separator.
Sentences are separated by a space.
Proper names are enclosed by small circular marks.
The question mark is written at the end of a sentence and is always followed by a space.
The colon is placed before lists, explanations, or clarifications.
Quote marks surround quotations.
Parenthesis surround set apart or interjected text.
Letter names
Edit
| Letter | Name | Meaning |
| --- | --- | --- |
| R | ralli | "cloud" |
| L | luh | "liana, vine" |
| S | sat | "eye" |
| Z | sat zeka | "voiced eye" |
| Ð | ðurz | "dance" |
| H | hurð | "hoard, riches, bounty" |
| Ŕ | ŕus | "year" |
| F | feskuŕ | "skin" |
| V | feskuŕ zeka | "voiced skin" |
| U/G | gehhu | "water" |
| E | 'Es | "Cittus-V" |
| A | 'alt | "tree" |
| I/Y | yeft | "pet/pest animal" |
| Ku | kuvve | "sand" |
| Ke | keyfaz | "homeland" |
| Ka | Kayŕ | "sun" |
| Ki | kið'a | "claw" |
| Tu | turra | "reaching plants" |
| Te | teteh | "spike, thorn, spear" |
| Ta | taz | "day" |
| Ti | tig | "joy, happiness, contentment" |
Romanization
Edit
| | | | | | | | | | |
| --- | --- | --- | --- | --- | --- | --- | --- | --- | --- |
| letter | A | Ð | E | F | G | H | I | K | L |
| phoneme | /ʌ/ | /θ/ | /ɛ/ | /ʟ̝̊/ | /ɣ/ | /h/ | /i/ | /k/ | /ɫ/ |
| letter | R | Ŕ | S | T | U | V | Y | Z | ' |
| phoneme | /ɹ/ | /r/ | /s/ | /t/ | /ɯ/ | /ʟ̝/ | /j/ | /z/ | /ʔ/ |
Nouns decline for case and number.
Pluralization
Edit
Plurals are formed regularly by the use of a disfix, which removes the final phoneme of a noun stem and degeminates any new final consonant before case suffixes are applied. Some examples:
feskuŕ "skin" > fesku "skins"
taysuz "district" > taysu "districts"
kuvve "sand" > kuv > kuvu "sands"
taz "day" > ta > taga "days"
Case morphology
Edit
The general suffixes are below, but nouns are highly irregular.
| | abs | erg | dat | obl |
| --- | --- | --- | --- | --- |
| sg | 0 | y/a/i | (a)r | (i)f |
| pl | (gV) | y/a/i | (a/y)r | (i/y)f |
The ergative case ending is -y if a diphthong can be formed, -a if it follows a consonant and the previous vowel is not also ⟨a⟩, -i if it follows a consonant and the previous vowel is ⟨a⟩, and -'i if the noun ends in ⟨i/y⟩ or ⟨ea⟩.
The singular dative and oblique use the vowels in parenthesis if the noun ends in a consonant. If the final consonant is a stop, however, they with use the inherent vowel of the stop syllable block.
If the noun when disfixed is monosyllabic, then the plural absolutive ending is -gV, where the V is an echo vowel of the previous syllable. If the vowel is ⟨u⟩, then the g is dropped.
The plural dative and oblique are -yr and -yf if the plural form of the noun is monosyllabic and a diphthong can be formed, -ar and -if if the plural form of the noun ends in a consonant cluster, and -r and -f otherwise.
Examples
Edit
herkuz "wanderer, traveler, tourist"
| | abs | erg | dat | obl |
| --- | --- | --- | --- | --- |
| sg | herkuz | herkuza | herkuzar | herkuzif |
| pl | herku | herkuy | herkur | herkuf |
sat "eye"
| | abs | erg | dat | obl |
| --- | --- | --- | --- | --- |
| sg | sat | sati | satar | sataf |
| pl | saga | say | sayr | sayf |
gehhu "water"
| | abs | erg | dat | obl |
| --- | --- | --- | --- | --- |
| sg | gehhu | gehhuy | gehhur | gehhuf |
| pl | gehge | geha | gehar | gehif |
ŕi'ahe "rain"
| | abs | erg | dat | obl |
| --- | --- | --- | --- | --- |
| sg | ŕi'ahe | ŕi'ahey | ŕi'aher | ŕi'ahef |
| pl | ŕi'ah | ŕi'ahi | ŕi'ahar | ŕi'ahif |
Case usage
Edit
Absolutive case
Edit
The absolutive case is used for the subject of intransitive verbs and the object of transitive verbs. ex. 'atta rey sayu. "I am the person"
Ergative case
Edit
The ergative case is mainly used for the subject of transitive verbs. It is also used in vocative expressions, with the instrumental preposition, and with locative prepositions to give them ablative meaning. ex. lay ŕi'ahey "out of the rain"
Dative case
Edit
The dative case is mainly used for the indirect object of ditransitive verbs. It is also used to indicate destinations, with locative prepositions to give them lative meaning, and in genitive/possessive expressions. ex. feskuŕ 'altar "bark", literally "skin to-tree"
Oblique case
Edit
The oblique case is exclusively used with prepositions. Most prepositions require the oblique. It gives locative prepositions stationary meanings. ex. lay sayf fef "in my eyes"
Compounding
Edit
Compound nouns can be formed from any two nouns by attaching the singular absolutive form of the modifying noun or adjective to the beginning of the head noun and geminating the final consonant of the modifier if possible. ex. yektaððtaysuz "special district"
Pronouns
Edit
The pronouns decline for number and case, with many irregular forms and suppletions.
Absolutive
Ergative
Dative
Oblique
sg
pl
sg
pl
sg
pl
sg
pl
1
ra
gið
rey
giða
rer
giðar
ref
giðf
2
fe
'ihha
fey
'ihhay
fer
'ihhar
fef
'ihhaf
3
strong
neutral
tu'
sah
tu'a
sahi
tu'ar
sahar
tu'if
sahif
feminine1
tu'le
tu'ley
tu'ler
tu'lef
masculine1
tu'ka
tu'kay
tu'kar
tu'kaf
weak2
(')e
(')ey
(')er
(')ef
reflexive
gesi
gesi'i
gesir
gesif
reciprocal
gele'u
gele'uy
gele'ur
gele'uf
relative
yeða
yeðay
yeðar
yeðaf
interrogative
'usse
'ussey
'usser
'ussef
The feminine and masculine third person pronouns are used only to explicitly express gender.
The weak third person pronouns are used where proper syntax does not allow pronoun dropping.
Adjectives
Edit
Adjectival morphology
Edit
Adjectives match the nouns they modify in case and number. Adjective plural forms use an -a suffix rather than a disfix, as in nouns.
Vowel stem
Edit
| | abs | erg | dat | obl |
| --- | --- | --- | --- | --- |
| sg | 0 | y/'i | r | f |
| pl | (')a | 'ay/a'i | (')ar | (')af |
The singular ergative is -'i if the adjective ends in ⟨i/y⟩ or ⟨ea⟩. Otherwise it is -y.
The plural absolutive, dative, and oblique are found without a glottal stop if the adjective ends in ⟨e⟩.
The plural ergative is -a'i if the adjective ends in ⟨e⟩. Otherwise it is -'ay.
ex. vikali "right (direction)"
| | abs | erg | dat | obl |
| --- | --- | --- | --- | --- |
| sg | vikali | vikali'i | vikalir | vikalif |
| pl | vikali'a | vikali'ay | vikali'ar | vikali'af |
Consonant stem
Edit
| | abs | erg | dat | obl |
| --- | --- | --- | --- | --- |
| sg | 0 | i | ar | if |
| pl | a | ay | ar | af |
ex. ðuykt "narrow, thin"
| | abs | erg | dat | obl |
| --- | --- | --- | --- | --- |
| sg | ðuykt | ðuykti | ðuyktar | ðuyktif |
| pl | ðuykta | ðuyktay | ðuyktar | ðuyktaf |
Comparative forms
Edit
The comparative form of adjectives is signified by the circumfix s(u)-(')ey, which drops the y in the plural. It changes any consonant stem to a vowel stem. Initial glottal stops are erased.
The superlative form replaces the prefix of the comparative with fe(')-.
Endings:
| | abs | erg | dat | obl |
| --- | --- | --- | --- | --- |
| sg | (')ey | (')ey'i | (')eyr | (')eyf |
| pl | (')ea | (')ea'i | (')ear | (')eaf |
Examples:
ðuykt "narrow, thin" > suðuyktey "narrower, thinner" > feðuyktey "narrowest, thinnest"
'ilak "cold" > silakey "colder" > fe'ilakey "coldest"
rittuvu "correct" > surittuvu'ey "more correct" > ferittuvu'ey "most correct"
Verbs conjugate for tense, mood, and intensity and have several non-finite forms and derivations to other parts of speech. They typically conjugate by the use of combinations of irregular varying stems and regular affixes.
Verbal morphology
Edit
Each verb has three stems.
Simple stem: used for simple nonfuture, future, and gnomic forms.
Intensive stem: used for intensive forms. Formed with the regular suffix -(i)(y)t(i), where the first i is for epenthesis, the last i only appears word-finally, and the y is only found if it can form a diphthong.
Irrealis stem: used for simple subjunctive, imperative, and passive participle forms. Formed with an irregular suffix which degeminates a final consonant. The suffix can take several forms: the regular suffix -(e)rre (rittuvu "correct" > rittuvurre), degemination plus an echo vowel (sivva "drink" > sivi), or the irregular infixed diphthong plus consonant change (selga "speak, talk, say" > seyra).
Participle stem: used for infinitive, active participle, and converb forms. Formed with a mostly regular suffix -(i)k, which may cause earlier vowel changes in a root (ta "be" > tek).
There are four non-converb affixes. They are exceedingly regular.
Nonfuture prefix: 'a(t)-, used for nonfuture and subjunctive forms.
Future suffix: -s, used for future and future participle forms.
Nonfuture participle suffix: -le, used for nonfuture participle and intensive imperative forms.
Zero affix: no affix, used for gnomic, simple imperative, and infinitive forms.
Converb prefixes are discussed below.
Intersections
Edit
| | Nonfuture affix | Future affix | Nonfuture participle affix | Zero affix |
| --- | --- | --- | --- | --- |
| Simple stem | simple nonfuture | simple future | | simple gnomic |
| Intensive stem | intensive nonfuture & intensive subjunctive | intensive future | intensive imperative | intensive gnomic |
| Irrealis stem | simple subjunctive | passive future participle | passive nonfuture participle | simple imperative |
| Participle stem | | active future participle | active nonfuture participle | infinitive |
Finite forms
Edit
| | Nonfuture | Future | Gnomic | Subjunctive | Imperative |
| --- | --- | --- | --- | --- | --- |
| simple | 'a(t)-root | root-s | root-0 | 'a(t)-root-(e)rre | root-(e)rre-0 |
| intensive | 'a(t)-root-(y)ti | root-(y)t-s | root-(y)ti-0 | 'a(t)-root-(y)ti | root-(y)t-le |
Nonfinite forms
Edit
Infinitive
Edit
root-(i)k-0
Participles
Edit
| | Nonfuture | Future |
| --- | --- | --- |
| active | root-(i)k-le | root-(i)k-s |
| passive | root-(e)rre-le | root-(e)rre-s |
Converbs
Edit
Converb forms show that a verb is adverbially subordinated.
Before verbing: 'aŕe-root-(i)k
Upon verbing: ðig-root-(i)k
While verbing: ze-root-(i)k
Since verbing: key-root-(i)k
After verbing: tul-root-(i)k
Periphrastic forms
Edit
The passive voice is formed by putting the verb into the appropriately tensed passive participle and preceding it with a conjugated tek "to be". ex. Ta ŕiskiharrele sah. "They are bullied."
Nonfuture
Edit
The nonfuture tense is used for definite events in both the past and present, with the intended time having to be determined from context or by the use of adverbs. ex. 'Arize gið ðigsivvak rifhu ðevittegar. "We fell asleep when we drank the mystery liquid."
The future tense refers exclusively to any definite event happening after the present time. ex. Rizes ra 'estal. "I'll go to bed later."
The gnomic tense is used to refer to any general statements of truth and falsehood at any time, be it past, present, or future. ex. Rize tu'ka la'ah. "He sleeps a lot."
Subjunctive
Edit
The subjunctive mood is primarily used in subordinate clauses. If found in an independent clause, it expresses a condition or hypothetical situation. It merges with the nonfuture in the intensive form. ex. 'Atisse rey yeða 'arizerre sah. "I wish that they would go to sleep."
Imperative
Edit
The imperative is used to form commands and requests. In the intensive, it is the only finite verb form to have a usually non-finite suffix. ex. Rizerre sirgef. "Go to sleep, please."
Intensive
Edit
The various intensive forms express strong belief, general emphasis, or unexpectedness/outrage toward the verb. ex. Rizeyti fe 'ityu! "You never sleep!"
Negation
Edit
Negation is simply shown with the particle 'it, which is placed immediately after the verb. The particle 'it is not necessary if a negative expression (like 'isku "nothing, nobody") is already in the clause. ex. 'Arize 'it ra.' "I haven't been sleeping."
Dictionary forms
Edit
In dictionaries, the infinitive of a verb is listed first, followed by the imperative, followed by any irregular stems, then any anomalous irregular forms. ex. rizek, rizerre "to sleep, fall asleep"
Examples
Edit
herkuk, herkurre "to wander, travel, tour"
Nonfuture
Future
Gnomic
Subjunctive
Imperative
simple
'aherku
herkus
herku
'aherkurre
herkurre
intensive
'aherkuyti
herkuyts
herkuyti
'aherkuyti
herkuytle
Participles
Converbs
'aŕeherkuk
active
herkukle
herkuks
ðigherkuk
zeherkuk
passive
herkurrele
herkurres
keyherkuk
tulherkuk
sivvak, sivi
"to drink"
Nonfuture
Future
Gnomic
Subjunctive
Imperative
simple
'asivva
sivvas
sivva
'asivi
sivi
intensive
'asivvayti
sivvayts
sivvayti
'asivvayti
sivvaytle
Participles
Converbs
'aŕesivvak
active
sivvakle
sivvaks
ðigsivvak
zesivvak
passive
sivile
sivis
keysivvak
tulsivvak
tek, tayr, ta
"to be"
Nonfuture
Future
Gnomic
Subjunctive
Imperative
simple
'atta
tas
ta
'atayr
tayr
intensive
'atayti
tayts
tayti
'atayti
taytle
Participles
Converbs
'aŕetek
active
tekle
teks
ðigtek
zetek
passive
tayrle
tayrs
keytek
tultek
Clause-level word order
Edit
Verb-Subject-(Direct Object)-(Indirect Object)-(Prepositional phrases)-(Adverbs)
Subject pronouns are not required if it can be determined from context.
Noun phrases
Edit
(Preposition)-Noun-(Adjectives)-(Adjectival nouns)
Prepositions
Edit
preposition
case
translation
lay
erg
out of
dat
into
obl
in
sig
obl
for
Vocabulary
Edit
Because of differences in anatomy and physiology, many categories of words are very different from their Earthly counterparts.
Conjunctions
Edit
The Cittus typically crawl on all six limbs, but they do use their first two pairs of limbs for manipulation. On each foot they have three clawlike fingers and a clawlike thumb. Their counting base is twelve, achieved by counting the fingers of their manipulative limbs, not counting the thumbs, which the second set of limbs only possess less dexterous remnants of.
| | # | #+12 | #*12 |
| --- | --- | --- | --- |
| 0 | verstis | reð | verstis |
| 1 | 'arf | 'arfre | reð |
| 2 | kay | kayre | tehat |
| 3 | tur | turre | seyh |
| 4 | heks | heksre | riga |
| 5 | latte | lattere | yusta |
| 6 | vis | vissre | viter |
| 7 | zuyta | zuytre | zuytter |
| 8 | zayra | zayrre | zayrter |
| 9 | tiŕu | tiŕure | tiŕtiz |
| 10 | tiŕ'ar | tiŕ'arre | tiŕ'atiz |
| 11 | tiŕkay | tiŕkayre | tiŕkatiz |
| 12 | reð | tehat | heysu' |
Body parts
Edit
Directions
Edit
| | West | | East |
| --- | --- | --- | --- |
| North | 'uŕesskuf | 'uŕes | 'uŕesstarat |
| | kuf | | tarat |
| South | ðegkuf | ðeg | ðegtarat |
Swadesh list
Edit
No.
English




Tixistani
1
I
ra
2
you (singular)
fe
3
he
tu', tu'ka
4
we
gið
5
you (plural)
'ihha
6
they
sah
7
this
—
8
that
—
9
here
—
10
there
—
11
who
—
12
what
—
13
where
—
14
when
—
15
how
—
16
not
'it
17
all
—
18
many
la'ah ði
19
some
—
20
few
—
21
other
—
22
one
'arf
23
two
kay
24
three
tur
25
four
heks
26
five
latte
27
big
—
28
long
—
29
wide
—
30
thick
—
31
heavy
—
32
small
—
33
short
—
34
narrow
ðuykt
35
thin
ðuykt
36
woman
—
37
man (adult male)
—
38
man (human being)
—
39
child
—
40
wife
—
41
husband
—
42
mother
—
43
father
—
44
animal
—
45
fish
—
46
bird
—
47
dog
—
48
louse
—
49
snake
—
50
worm
—
51
tree
'alt
52
forest
—
53
stick
—
54
fruit
—
55
seed
—
56
leaf
—
57
root
—
58
bark
feskuŕ 'altar
59
flower
—
60
grass
—
61
rope
—
62
skin
feskuŕ
63
meat
—
64
blood
—
65
bone
—
66
fat
—
67
egg
—
68
horn
—
69
tail
—
70
feather
—
71
hair
—
72
head
—
73
ear
—
74
eye
sat
75
nose
—
76
mouth
—
77
tooth
—
78
tongue
—
79
fingernail
—
80
foot
—
81
leg
—
82
knee
—
83
hand
—
84
wing
—
85
belly
—
86
guts
—
87
neck
—
88
back
—
89
breast
—
90
heart
—
91
liver
—
92
drink
sivvak, sivi
93
eat
—
94
bite
—
95
suck
—
96
spit
—
97
vomit
—
98
blow
—
99
breathe
—
100
laugh
—
101
see
—
102
hear
—
103
know
—
104
think
—
105
smell
—
106
fear
—
107
sleep
rizek, rizerre
108
live
—
109
die
—
110
kill
—
111
fight
—
112
hunt
—
113
hit
—
114
cut
—
115
split
—
116
stab
—
117
scratch
—
118
dig
—
119
swim
—
120
fly
—
121
walk
—
122
come
—
123
lie
—
124
sit
—
125
stand
—
126
turn
—
127
fall
—
128
give
—
129
hold
—
130
squeeze
—
131
rub
—
132
wash
—
133
wipe
—
134
pull
—
135
push
—
136
throw
—
137
tie
—
138
sew
—
139
count
—
140
say
selgak, seyra
141
sing
—
142
play
—
143
float
—
144
flow
—
145
freeze
—
146
swell
—
147
sun
Kayŕ
148
moon
—
149
star
—
150
water
gehhu
151
rain
ŕi'ahe
152
river
—
153
lake
—
154
sea
—
155
salt
—
156
stone
—
157
sand
kuvve
158
dust
—
159
earth
—
160
cloud
ralli
161
fog
—
162
sky
—
163
wind
—
164
snow
—
165
ice
—
166
smoke
—
167
fire
—
168
ash
—
169
burn
—
170
road
—
171
mountain
—
172
red
—
173
green
—
174
yellow
—
175
white
—
176
black
—
177
night
—
178
day
taz
179
year
ŕus
180
warm
—
181
cold
'ilak
182
full
—
183
new
—
184
old
—
185
good
—
186
bad
—
187
rotten
—
188
dirty
—
189
straight
—
190
round
—
191
sharp
—
192
dull
—
193
smooth
—
194
wet
gehuy
195
dry
—
196
correct
rittuvu
197
near
—
198
far
—
199
right
vikali
200
left
—
201
at
—
202
in
—
203
with
—
204
and
—
205
if
—
206
because
—
207
name
—