Ad blocker interference detected!
Wikia is a free-to-use site that makes money from advertising. We have a modified experience for viewers using ad blockers

Wikia is not accessible if you've made further modifications. Remove the custom ad blocker rule(s) and the page will load as expected.
Progress 0%

Stats
Nouns
0%
Verbs
0%
Adjectives
0%
Syntax
0%
Words
of 1500
Vni
Hekang Vni
Type
Isolating
Alignment
Nominative–accusative
Head direction
Final
Tonal

Yes

Declensions

No

Conjugations

Yes

Genders
None
Nouns decline according to...
Case
Number
Definiteness
Gender
Verbs conjugate according to...
Voice
Mood
Person
Number
Tense
Aspect
General information
Edit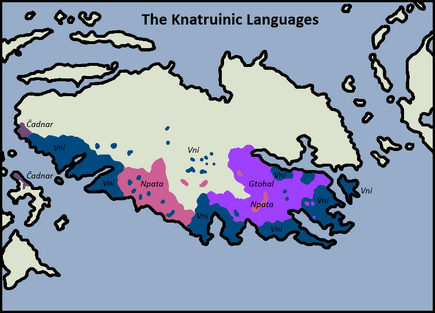 Vni is one of the languages spoken by the Hamarni people, primarily along parts of the southern coast of the island of Twaraskoho. With more than 700,000 speakers, it is the most spoken language of the Kantruinic language family. Strangely, this language family has recently been discovered to be related to Ánagin, the language that is spoken most on the island of Tánagwer and surrounding islands. This fact could be explained by migration over sea during ancient times.
Phonology
Edit
Consonants
Edit
Bilabial
Labio-dental 
Dental
Alveolar
Post-alveolar
Palatal
Labio-Velar
Velar
Uvular
Glottal

Alveolo-palatal

Palato-alveolar
Retroflex
Nasal
m  (mʲ)
n
ɲ
ŋ
(ɴ)
Plosive
p   b  (pʲ)  (bʲ)
t   d
c   ɟ
(ɡ͡b)
k   g  (kʲ) (gʲ)
(ɢ)
ʔ
Sibilant fricative
s   z
ɕ   ʑ
(ʂ)  (ʐ)
Non-sibilant fricative
 ɸ   β  (ɸʲ)  (βʲ)

f   v    (fʲ)  (vʲ)

θ   ð
  x   ɣ   (xʲ)  (ɣʲ)
(χ)  (ʁ)  (ʁʲ)
ɦ
Affricate
(p͡f) (b͡v)
t͡s   d͡z
t͡ɕ   d͡ʑ
(t͡ʃ)  (d͡ʒ)
(k͡x)
Approximant
β̞ 
(ɹ)
(ɻ)
j
(w ~ ɰʷ)
Trill
r  (rʲ)
(ʀ)  (ʀʲ)
Flap or tap
(ɾ)  (ɾʲ)
Lateral approximant
l   (ɫ)
(l̠ʲ)
(ʎ)
(ʟ)
Where symbols appear in pairs, left–right represent the voiceless–voiced consonants, except for (ɫ) which is the velarised equivalent of l. Also, symbols with ʲ represent palatalised consonants.
Symbols between brackets are phones that are not phonemes, but allophones.
Front
Near-front
Central
Back
High
i
(ɯ) - u
Near-high
ɪ
High-mid
e
o
Mid
(ə)
Low-mid
ɛ
ɔ
Near-low
(æ)
(ɐ)
Low
a
ɑ
Phonotactics
Edit
| | Gender | Cases | Numbers | Tenses | Persons | Moods | Voices | Aspects |
| --- | --- | --- | --- | --- | --- | --- | --- | --- |
| Verb | No | No | No | No | No | No | No | No |
| Nouns | No | No | No | No | No | No | No | No |
| Adjectives | No | No | No | No | No | No | No | No |
| Numbers | No | No | No | No | No | No | No | No |
| Participles | No | No | No | No | No | No | No | No |
| Adverb | No | No | No | No | No | No | No | No |
| Pronouns | No | No | No | No | No | No | No | No |
| Adpositions | No | No | No | No | No | No | No | No |
| Article | No | No | No | No | No | No | No | No |
| Particle | No | No | No | No | No | No | No | No |
Vocabulary
Edit
Example text
Edit